The operation was proposed at a period of particularly vicious strife, with mounting civilian casualties. It envisaged royal marines taking over Hodeidah, which had become the only effective lifeline for aid going into the country, with airspace shut off due to a Saudi-led blockade.
Now that Mr Johnson is in Downing Street that option "remains very much on the table", according to government officials
The British initiative last year would have needed agreement with the two opposing sides, the Houthis and the coalition under Saudi Arabia and the United Arab Emirates (UAE), and close liaison with international relief agencies.
The plan had been originally envisaged by MP Tobias Ellwood when he was at the Foreign Office in 2017 working under Mr Johnson, who encouraged him to develop it further. Mr Ellwood then proposed the mission at a strategy meeting in summer 2018 after moving as a minister to the Ministry of Defence.
The issue was discussed as an offensive by the Saudi-led coalition was looming. The plan was supported by Mr Johnson and received the backing of the national security adviser Mark Sedwill and a number of commanders.
Children suffering from acute malnutrition in Yemen
Show all 17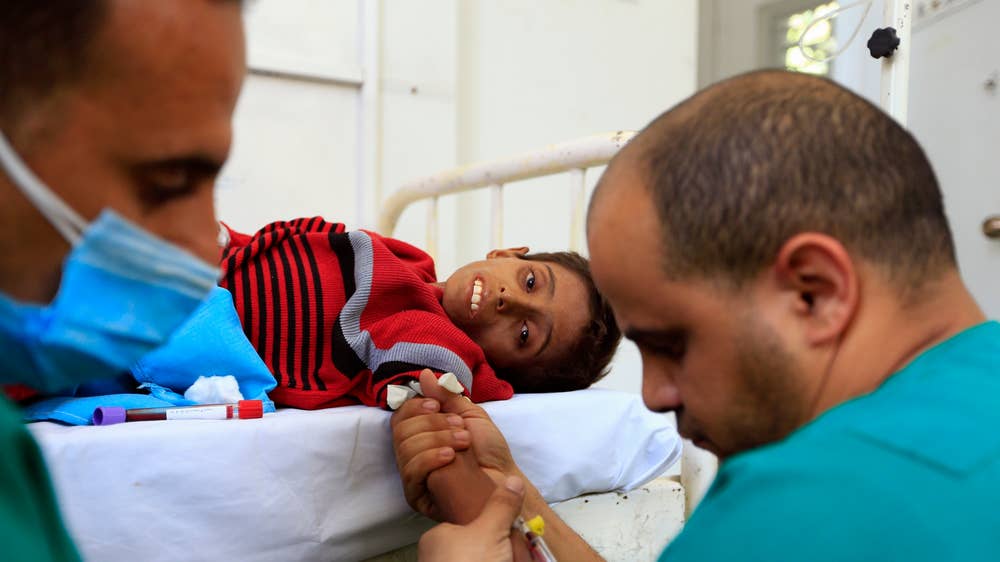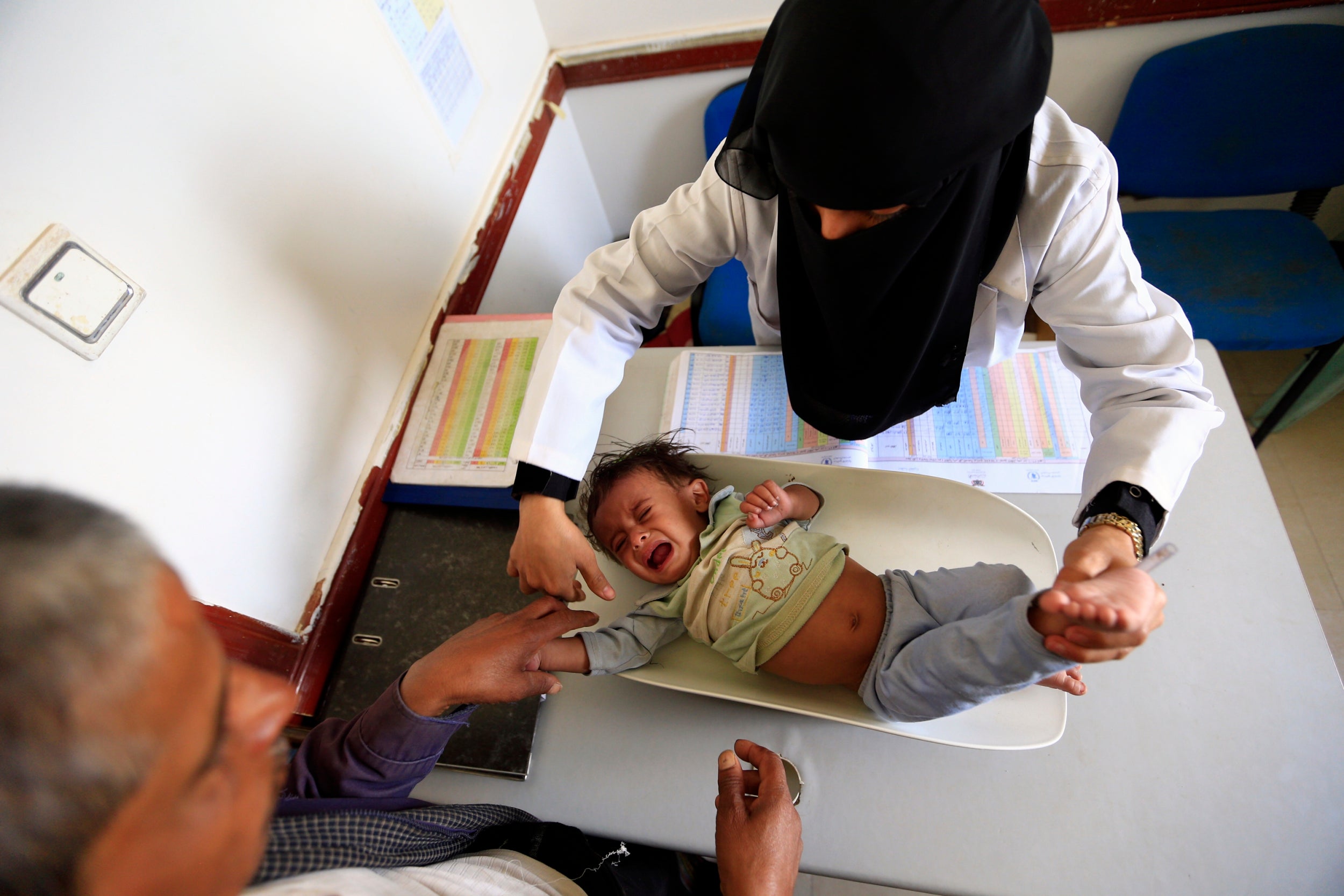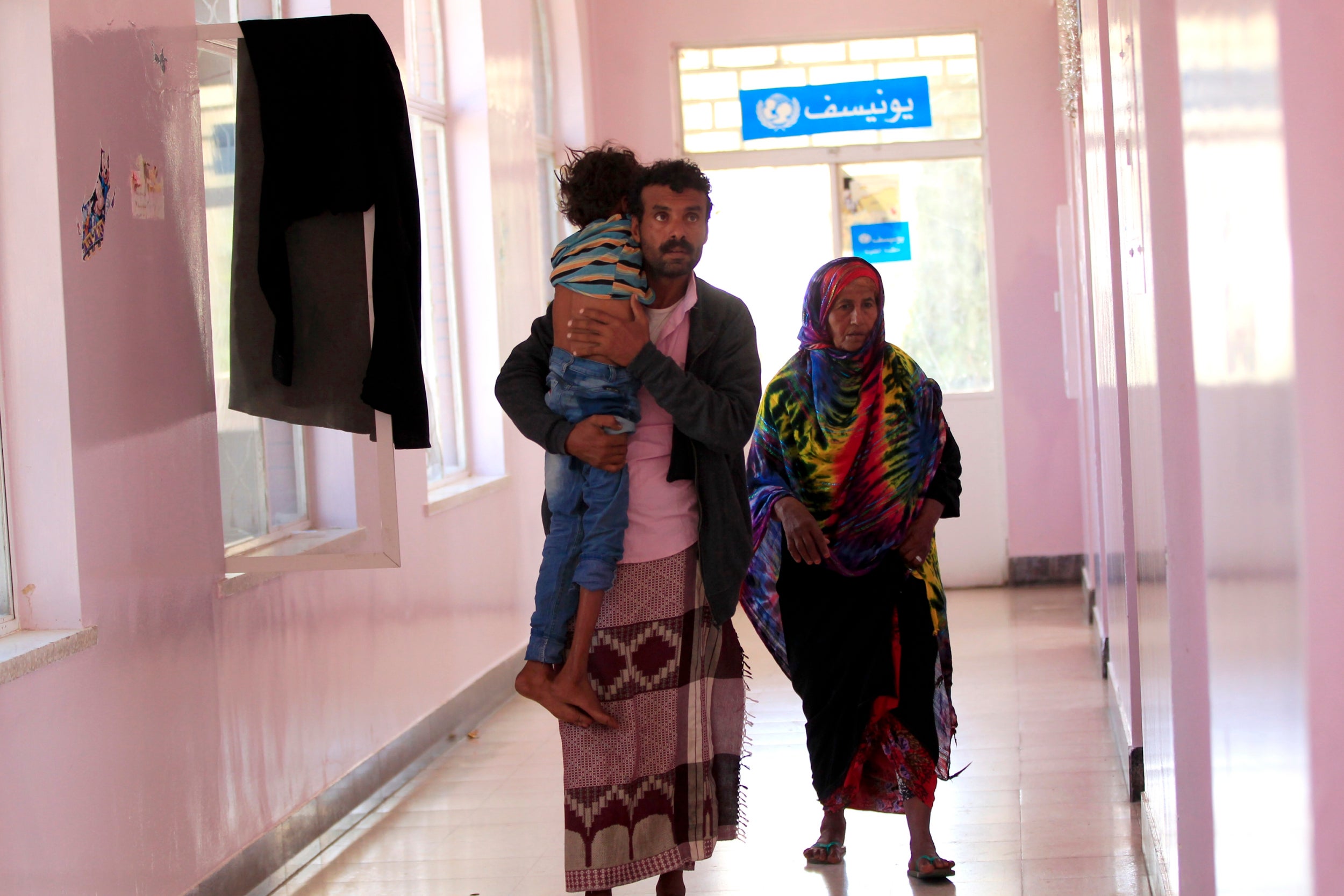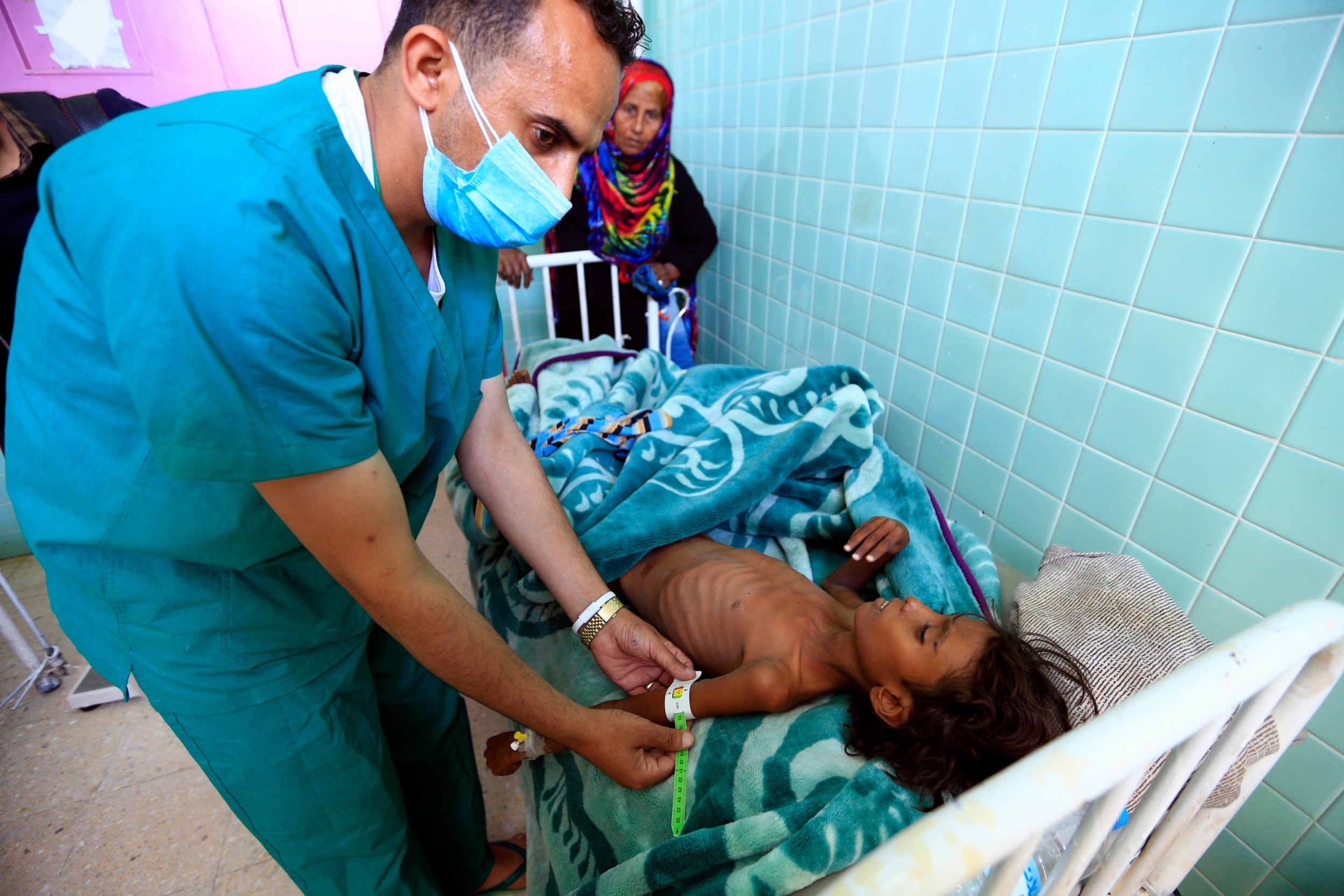 However, there was concern about "mission creep" – the risk of British troops being drawn into combat – by then defence secretary Gavin Williamson, among others, and Theresa May's government eventually decided against the deployment.
Mr Ellwood told The Independent: "I had discussed a plan for Hodeidah initially with relevant regional states, the Saudis, the Emiratis and others when I was at the Foreign Office and they saw it as a very viable option. There was invaluable support from John Kerry (then US secretary of state, until January 2017) and other senior US figures, and Boris was very encouraging.
"I raised the matter again when I was at the MoD. The idea would have been to send 3 Commando Brigade as a humanitarian mission to ensure that aid got in and there was at least a real attempt to avert an appalling catastrophe. It wouldn't have been just us on our own, we would have received international support."
Mr Ellwood, a former army officer, continued: "It's the sort of thing Britain is good at and as the penholder on Yemen at the UN and our long historical association with the region we had an obligation to act. There was a lot of support but some were worried about the headlines.
"I hope now that Boris is at Downing Street we would not shirk missions such as these when they become necessary. My impression is that he will want to take action."
Officials stressed that with Mr Johnson now in Downing Street the possibility of British forces being sent on a similar operation remains an option.
One Whitehall official said: "We are prepared to help with humanitarian missions if we can and if they are necessary, that certainly remains very much on the table."
Another official said: "At the time there was a feeling that we should be doing something more than just hand-wringing about the awful situation on the ground. There had also been a lot of criticism about arms sales to the Saudis and public feeling that the [British] government wasn't doing enough to prevent civilian casualties.
"There was also a desire for a bit of flag-waving at the time and the belief that something could be done; but Gavin Williamson and others were concerned about the risk of any ceasefire collapsing and of getting sucked into combat.
"The Hodeidah operation would have probably been worthwhile trying, but one can understand the apprehension about things going wrong. It would have needed a force package with other assets, including special forces."
A Ministry of Defence spokesperson said: "We do not comment on any operational planning involving special forces."
Soon after the military option was proposed, and rejected, the forces of the Saudi-led coalition launched an attack on Hodeidah. Fighting continued for months afterwards with mounting civilian casualties.
Under a UN-sponsored ceasefire at the end of last year there has been a withdrawal of forces from Hodeidah, although the port has been subjected to sporadic bouts of violence ever since.
Video shows damaged buildings and homes in Yemen village hit by Saudi-led coalition airstrikes
Fighting has continued elsewhere, with the Houthis claiming earlier this week that they had launched missile attacks on Saudi Arabia. Airstrikes by the Saudi coalition have continued, but the UAE has announced recently that it is significantly scaling back its involvement in the Yemen mission.
Following the decision not to go ahead with the military option, the British government decided to attempt to reduce the flow of weapons into the conflict through diplomatic channels. This was achieved to an extent, according to security officials, with the help of a number of regional countries.
Discussions between western allies which began following the abandoned British military mission helped to pave the ground for stepping-up of pressure in the autumn of last year by the US and UK for a ceasefire, claim the officials.
The US and Britain, Saudi Arabia's biggest arms suppliers, called for an immediate end to the conflict. The US secretary of state, Mike Pompeo, called on the Houthis to stop firing missiles into Saudi Arabia and the UAE but stressed "subsequently, coalition airstrikes must cease in all populated areas in Yemen".
It was the strongest insistence, to date, by a senior US administration official to Saudi allies to stop bombing and agree to a ceasefire. Mr Johnson had by then resigned from Ms May's government over their differences regarding Brexit.
Mr Johnson had clashed with the prime minister more than once over Yemen. Soon after going to the Foreign Office he said in December 2016 that Saudi Arabia was "puppeteering and playing proxy wars" in the Middle East and, like its enemy Iran, "twisting and abusing religion" to further its political aims.
In a swift Downing Street reprimand, the prime minister's spokesperson Helen Bower said Mr Johnson was "setting out his own views on Saudi Arabia … But he'll be sticking to the government's line when he visits Saudi ministers this weekend."